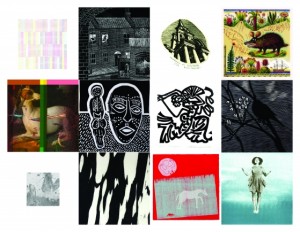 The Parallel Print portfolio has been selected for presentation at the Impact 8 international printmaking conference in Dundee, Scotland on August 31st.
"Impact 8 International Printmaking Conference is a celebration of interdisciplinarity and exploration through the medium of print
The eighth Impact international conference will be hosted in Dundee as a central element to the inaugural Print Festival Scotland – an event which aims to confirm the cultural diversity, historical significance and future potential of print".
Collections
The Parallel Prints portfolio will be going into the following collections:
The Victoria &Albert Museum, London, UK
The Ashmolean Museum, Oxford, UK
The Whangarei Art Museum, NZ
The Kent Print Collection, Kent University, UK
Art at Wharepuke, NZ
Exhibition – France
The folio will also be exhibited in France at Galerie Apart, Le Bourg , Marcilhac -sur- Cele in October 2013.
NZ/Australia
Plans for a New Zealand/Australia Parallel Prints project at the Art Gallery of Ballarat, Victoria in 2015 are underway.