Eleven UK based artists were  invited to contribute to the original 2013 NZ/UK Parallel Prints project by Mark Graver and Tania Booth from  Art at Wharepuke in Kerikeri, New Zealand.   Mark also contributed a print to complete the set of twelve works. In return for contributing to the portfolio each of the artists received a set of these twelve prints in a bound archival case.  Twelve more were produced and offered for donation to international museum and academic collections such as the Victoria and Albert Museum, London.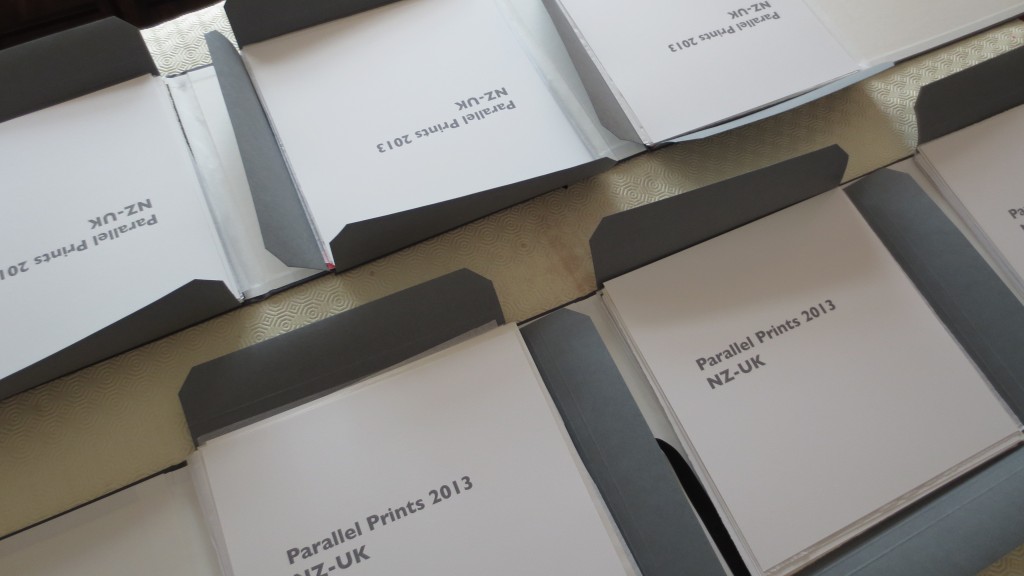 The artists involved in the original Parallel Prints 2013 NZ/UK project are all established printmakers internationally  recognised in their fields. Their works are held in many public and private collections throughout the world.
The 2013 portfolio was also exhibited alongside the 2015 version of the project at The Art Gallery of Ballarat in Victoria, Australia.
For further information about the artists involved in Parallel Prints 2013 NZ/UK please see below or contact Art at Wharepuke.
Hover over the image to see the artists name.
Click for a larger image and slideshow
Artists
 Johanna Love    Timo Lehtonen    Steve Mumberson    Mark Graver
Margaret Ashman   GillianGolding    Duncan Bullen      Chris Pig
Sandy Sykes        Anne Desmet        David Ferry         Weimin He