The 2015 artists invited to participate  in the Parallel Prints NZ/Australia exhibition and portfolio are established international printmakers whose works are held in numerous public and private collections.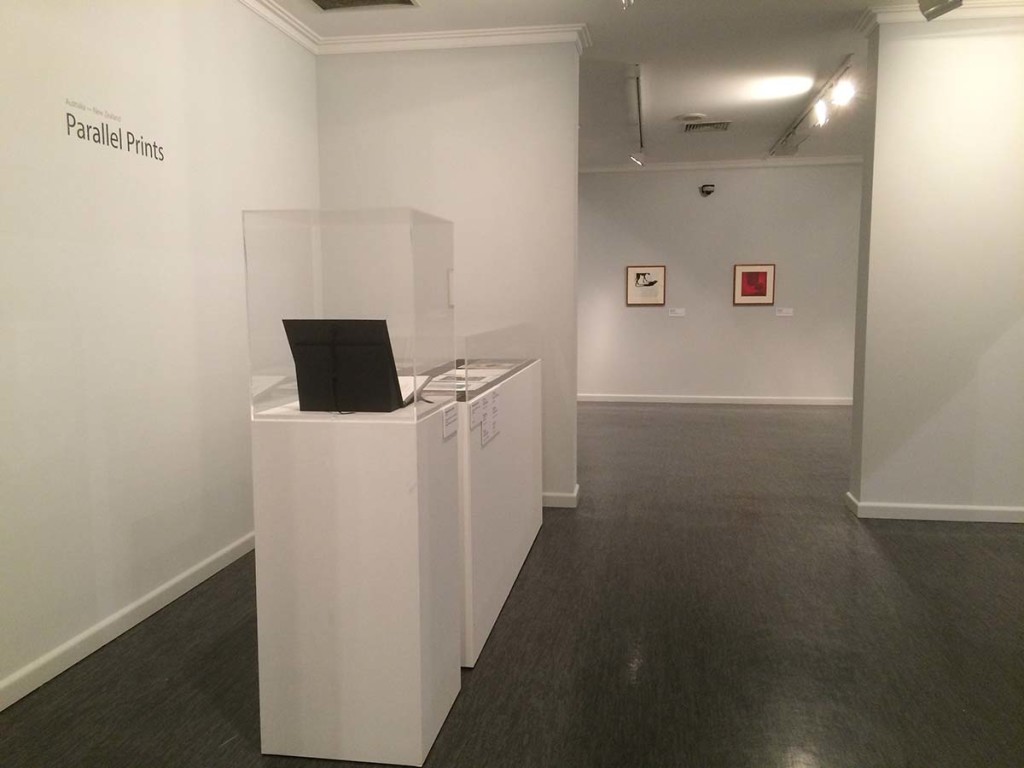 The contributing artists are:
Susanna Castelden
Susanna Castleden is an artist and Senior Lecturer at Curtin University, Western Australia where she is Director International and Coordinator of Printmedia in the School of Design and Art. Susanna recently completed a PhD at RMIT University, Melbourne and was awarded the Linden Prize in 2015. In 2014 Susanna was awarded second place in the Fremantle Print Award and was shortlisted to exhibit in the 2014 International Print Biennale in UK. Other awards include the Joondalup Art Award in 2011; the Burnie Print Prize in 2013 and the Bankwest Art Prize also in 2013.
Antonietta Covino-Beehre

David Frazer
David Frazer has exhibited nationally and internationally with over 35 solo exhibitions since 1996 and a number of group exhibitions and prizes throughout Australia, China, the UK and Poland. In 2007 he was the major prize winner of the 1st Guanlan International Print Biennial, China. He also won the Broken Hill Outback Art Prize in 2004 and was runner up in the 2007 Burnie Print prize and received acquisition prizes at the Geelong Print Prize and the Silk Cut Award for Lino cut prints. In 2007 the ABC produced a half hour documentary on David as part of the Artist at Work series. In 2013 Frazer won the peoples choice award at the Fremantle Print award and the Hutchins art on paper prize. His work is represented throughout Australia and overseas including the National Gallery of Australia, the art Gallery of NSW, the National Gallery Of Victoria, The National Library of Australia, the National Museum of China and most regional galleries in Australia.
Mark Graver
Mark Graver is an award winning artist printmaker originally from the UK and now based in Kerikeri, New Zealand.  He established the Wharepuke Print Studio in Kerikeri in 2005 (NZ's only dedicated Non-Toxic Acrylic Resist Printmaking workshop) and in 2009 with partner Tania Booth the Art at Wharepuke gallery.
Mark has curated exhibitions and printmaking symposiums in the UK and Australia and is the author of the A&C Black Printmaking handbook 'Non-Toxic Printmaking' (London, A&C Black, 2011).
His practice involves working with printmaking, digital video and sound with interest concentrated at the point where these approaches meet and cross – the editonable act/event/encounter of pulling a print or screening a film, the re-presenting of this act/event/encounter and its relationship with memory, place and time.
His work in held in  numerous public and private collections including the
V&A Museum, London, The Ashmolean Museum, Oxford, The Art Gallery of Ballarat, Victoria, Australia, Federation University, Ballarat, Victoria, Australia,  Whangarei Art Museum, NZ, Jinling Museum of Art, China, Guandong Museum of Art, Guangzhou, China, Penang State Art Gallery, Malaysia ,National Museum Of Fine Art, Taiwan, Douro Museum of Printmaking, Portugal, Durban University – Arts for Humanity Collection, Literature and Arts Department, Harbin, China, CONARTE – Non Toxic Printmaking Museum, Monterrey, Mexico, Painting and Sculpture Museums Association, Istanbul Turkey and the James Wallace Trust, NZ.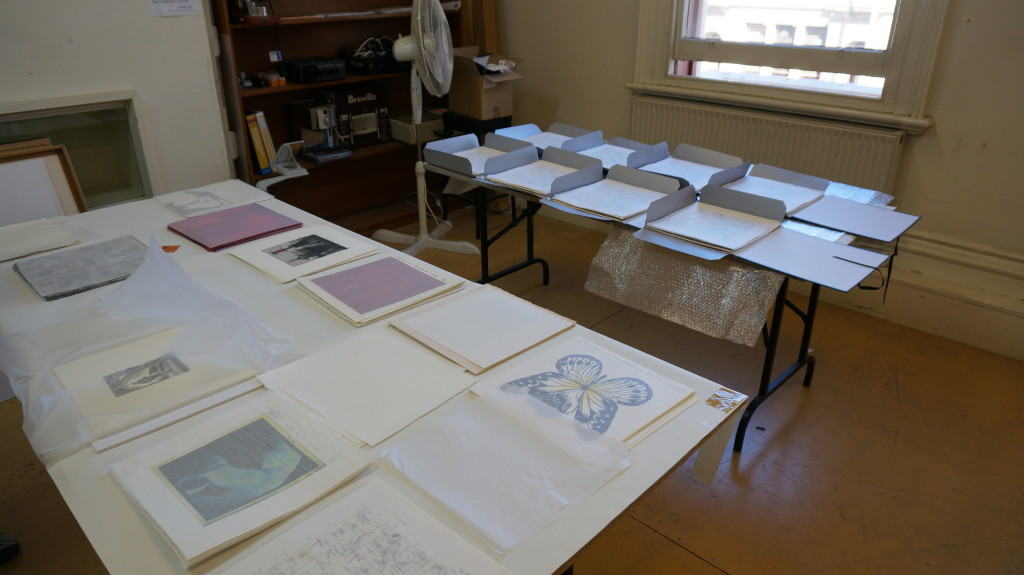 Jodi Heffernan
Since completing her Bachelor of Art (Honours), majoring in printmaking, at RMIT in 1992 Jodi Heffernan's paintings, prints and print media installations have been exhibited both nationally and internationally.
In 1992 she won the Canson Student Art Prize which included a residency at Atelier Lacourière et Frélaut Print Studio in Paris. Since then she has held residencies at Arthur Boyd's Bundanon property in New South Wales  and more recently at the Australian Tapestry Workshop in Melbourne. She has participated as an Lead Artist in  Noosa , Queensland  as part of the project TreeLine –  an examination of  the connections between Art, Science and Nature.
Her work has received several awards most notably in 2006 the Silk Cut Acquisition Award, in 2005 the Geelong Print Prize Acquisition Award and the in 1992 the Fremantle Print Prize Acquisition Award.
Jodi's work is represented in many important Australian collections including The National Gallery of Australia, The Art Gallery of NSW, Arts Victoria, The State Library of Victoria, RMIT University, Monash University, The Australian Print workshop, The Fremantle Arts Centre and numerous corporate collections in France, Poland and the UK.
Martin King
Martin King has had over 40 solo exhibitions throughout Australia and has exhibited in many group exhibitions both in Australia and Internationally.
He has been awarded a number of prizes and awards including:
2014 Rio Tinto Alcan Martin Hanson Memorial prize                         2006 The Broken Hill Outback Art Award                                                  2003 McGivern Art Prize                                                                                     1999 Third prize at the 3rd Kochi International Triennial of prints in Japan                                                                                                                                      1999 Honourable Mention, Bharat Bhavan International Print Biennale in India                                                                                                                   1997 Artist Book Prize at the Fremantle Print Award
He works in printmaking, drawing, painting and animation
Martin is represented collections including the British Museum National Gallery of Australia, National Gallery of Victoria, Art Gallery of NSW, Art Gallery of S.A, Corporate and private collections.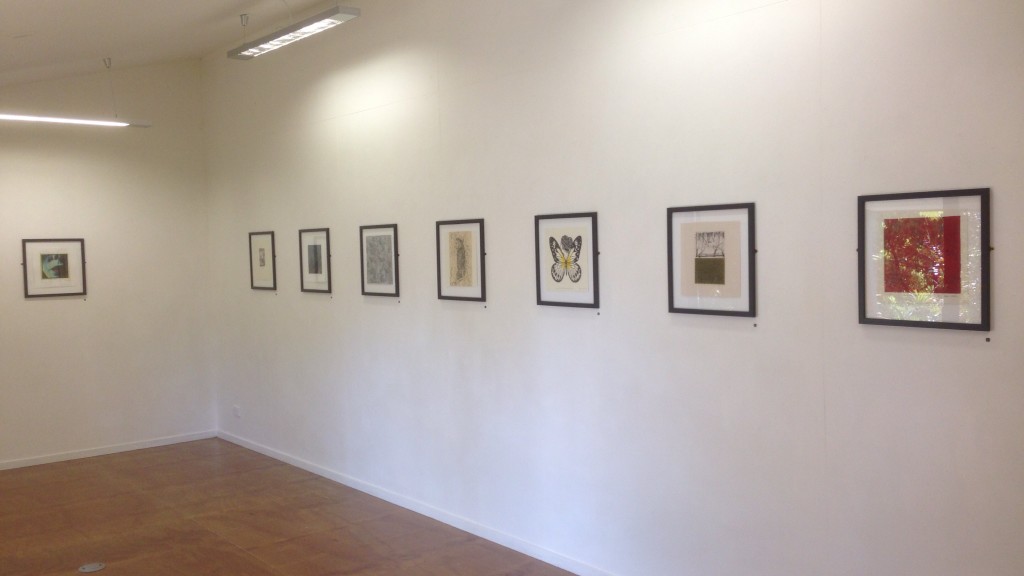 Deborah Klein
Deborah Klein was born in Melbourne, Australia and grew up in the coastal suburb of St Kilda. From 1973 she lived and worked in London, returning to Melbourne in 1980. Although she still retains a Melbourne base, her art practice has been centred primarily in Ballarat since 2011.
She gained degree and post-degree qualifications from Chisholm Institute of Technology, Melbourne, Gippsland School of Advanced Education and a Research MA from Monash University, Gippsland.
Since 1987 she has held regular solo exhibitions and participated in group exhibitions in Australia and internationally. In 2008 the survey show 'Deborah Klein: Out of the Past 1995-2007' toured to Castlemaine Art Gallery and Historical Museum, the Art Gallery of Ballarat, Warrnambool Art Gallery and Deakin University Art Gallery, Victoria. Although Klein's reputation was initially founded on her relief prints, including 'The Pirate Jenny Prints' (1989) and the 'Film Noir' and 'Tattooed Faces and Figures' series (1995 – 1997) her practice gradually expanded to encompass painting, drawing and artist books. Printmaking, however, remains a major component of her work.
In 2009 she founded Moth Woman Press, through which she publishes her zines and limited edition books, beginning with 'There was once… The collected fairy tales,' a small anthology of thirteen original stories illustrated with her prints, paintings and drawings. Other activities have included teaching at RMIT University in the Printmaking Department (1999-2001, 2003-2007) and the Drawing Department (2004-2008).
Her work has received numerous awards, including the Grand Prize, Silk Cut Award for Linocut Printmaking, and is represented in public and university collections throughout Australia.
Bruno Leti
Born in Italy in 1943 Bruno Leti arrived in Australia with his family in 1952.  He has sustained a diverse and fertile art practice for over four decades with his contribution to Australian art and his technical
virtuosity being lauded by critics and scholars.
In a foreword to Sasha Grishin's recent publication, 'Bruno Leti: Portrait of a Printmaker', Ron Radford remarks that Bruno is "a highly intuitive artist, responding to his environment with works that are imbued with luminosity and timelessness".
His work is sometimes referred to as autobiographical, yet
the work as Grishin notes "does not reflect the external circumstances of his life, but rather an internal spiritual growth".
Bruno Leti's work is held in collections such as the National Gallery of Australia, all Australian state galleries, Parliament House, Artbank, BHP, Phillip Morris, Westpac, The Hirshhorn Museum in Washington and the Biblioteca Comunale in Milan
John Neeson
Born 1948, Lives and works in Melbourne.
John Neeson has exhibited nationally and internationally since 1968 and is represented in Australian and International Collections, Fellowship Diploma of Fine Art,Printmaking, R.M.I.T 1972, lectured in Fine Art-Printmaking,1975-2001, Monash University, Australia.
The image  ' Albion- too steep, too high '  2015, is representative of a large body of work which is a synthesis of two themes, the warrior image and the landscape.
The warrior image has been a theme of work following receiving a conscription notice as a student, visually; the eastern traditions- the work of Asian printmakers and the more traditional Japanese prints and calligraphy influenced these works. This image manifests itself in nine separate images – three across and three down.
As John says "The landscape being the mountains which I first encountered in the 1950's- Has been refined in the Ovens Valley of Northeast Victoria, particularly in an area 'The Gunns' near Harrietville, an area of settlement during the gold-rush but little since. This area has been badly burnt 5 times since 1983 and most recently in 2013 but is a space I like to visit by myself and draw, exploring the nuances and subtleties of this eco-system. The image in 'Albion- too steep, too high' is landscape dominant and shows my wandering tracks and the landscape to the Albion Point on a ridge above Harrietville".
John Neeson's work is held in many prestigious international collections including:
Museum of Modern Art, New York, National Gallery of Australia, V&A Museum, London, National Gallery of Victoria, Art Gallery of New South Wales, National Gallery of South Australia ,Gallery of Tasmania, Hobart, Auckland City Art Gallery, Art Gallery of Launceston, Tasmania
James Pasakos
The core theme in the work of James Pasakos is 'sense of place and identity', one that has been largely influenced by the Melbourne Docklands, Australia. The artist spent his childhood exploring the industrial Docklands of Melbourne – that polluted artificial landscape reflected in his earlier and current artwork.
Pasakos now finds himself living and working in Ballarat, regional Victoria. He continues to find inspiration in his new environment, in the natural landscape, rich history and architecture.
He co-ordinates the Printmaking, Drawing and Digital Art Studios for the undergraduate degree course at Federation University Australia. He also co-ordinates the Goldfields Printmakers a new group of Printmakers in Central Victoria, Australia.  Goldfields Printmakers exhibited at Art at Wharepuke in Kerikeri in 2014.
Melissa Smith
Melissa Smith primarily works with print, utilizing traditional and new technologies. Her work references aspects of the landscape and in particular the shifts in the landscape that have occurred as a consequence of climatic changes, questioning its future balance.
She has participated in numerous solo and group exhibitions throughout Australia and overseas. Melissa has been a finalist in major art prizes including the Alice Prize, Hutchins Art Prize, Burnie Print Prize, Sunshine Coast Art Prize, Banyule Works on Paper Art Award, Waterhouse Natural History Art Prize and the Outback Prize. Her prints were acquired in the 2011 Silkcut Print Award and the 2012 Fremantle Print Award. Melissa's work is represented in corporate, tertiary, college and private collections in Australia and overseas, and in the following Public galleries; National Gallery of Australia, ACT; Burnie Regional Gallery, Queen Victoria Museum and Art Gallery, TAS; Wagga Wagga Art Gallery, Grafton Regional Gallery, Tweed River Regional Art Gallery, NSW and the Warrnambool Art Gallery, VIC.
Melissa currently lives and works in Launceston, balancing her roles with Arts Tasmania as a Roving Curator and Program Officer for Public Art, with her arts practice.
Deborah Williams
Deborah Williams was born 1967 in Melbourne, Australia. She studied fine art at Victoria College, Prahran (1987 – 1989), an Honors degree at RMIT (1994) and a Masters of Fine Art by Research at the National Art School in Sydney (2011).
Since 1993, Williams has exhibited regularly in both solo and group exhibitions internationally and within Australia.  Her work has been acquired by many private and public art collections around the world including, London, Belfast, Edinburgh and Glasgow Print Workshops, respectively; National Gallery of Australia; Art Gallery of NSW; Portland Art Museum, USA; The Chicago Print Collective Workshop, USA; and the Chiang Mai Contemporary Art Museum, Thailand. In 2010 she was the winner of the Swan Hill Print Award.
A keen observer of the canine realm and our own relation to it, her artistic perspectives have been further informed by travels to remote locales where she has explored culturally relative attitudes to both pet ownership and abandonment.
Williams lives and works in Melbourne and is currently Coordinator of the Advanced Diploma program and Printmaking within Visual Art at RMIT University.
She is represented by Australian Galleries in Melbourne and Sydney, and Colville Art Gallery in Hobart.